Climb the tower or get on the raft of Adventure park Valdeludo. The true daredevil races the track in less than no time in an electric go-kart or jump extremely high on the bungee trampoline. Dad and mum can have a drink and bite at one of the foodtrucks, while the little ones have the time of their life at the tractor track or in the carousel. Adventure park Valdeludo is fun for kids under thirteen years old!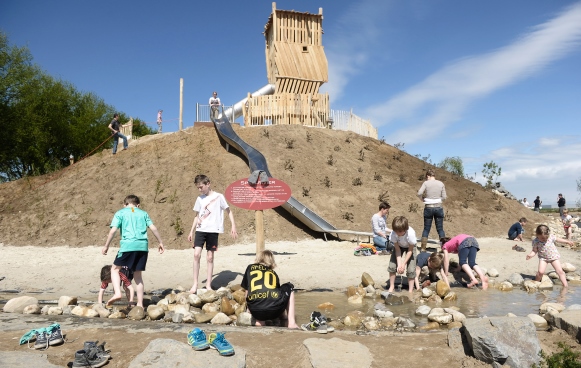 Playground paradise of Limburg
Come and play outside at Valdeludo, the adventure park where children can climb, scramble, splash in the river and build tree houses. There are both attractions and workshops: Valdeludo has everything for an adventurous day out with the whole family!
Adventures in the river
Horsing around is taken to a whole other level at Adventure park Valdeludo. Discover the river, climb the adventure mountain or swing on the Tarzan swing. You won't get bored at the attractions either. Join a workshop outdoor lasergaming or build and decorate your own tree house in the Timmer village.
Day out with the little ones
A day out at Valdeludo is fun for young and old, so the youngest kids will love it, too. Pet the animals of the children's farm, hop on the carousel or dig deep in the sand-box with a cool excavator. Of course there's plenty of water and sand.
Food and drinks
For only 2,50 euros you'll get unlimited soft drinks. At the indoor square you can have chips, snacks and sandwiches. Bon appetit!
Tip: Group package deals are available for birthdays and family days out!
Ask a question to Adventure park Valdeludo: on the ground, in the water and in the sky;
This attraction Adventure park Valdeludo: on the ground, in the water and in the sky in Echt is suitable for childrens party (vanaf € 14,50 p.p.).