The massive building of Klimhal Amsterdam shows up the moment you leave the railway station Amsterdam Sloterdijk. At 21 metres tall and with a climbing surface of no less than 3300 m2, this is the largest indoor climbing centre in the Benelux.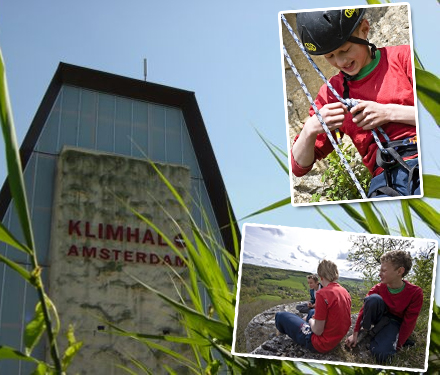 Climbing walls and abseiling
Just started climbing, or already a pro? Everyone can climb at their own level at Klimhal Amsterdam. There are many different walls, such as the instruction wall where beginners can practice to their heart's content. There is also a large climbing wall used for competitions. The longest route on this wall measures 27 metres. The Happy Radio wall is just the place to practice your footwork. Besides the climbing walls their is an abseiling platform, for after all, what goes up, must come down! Once you've conquered the edge, you are suspended 14 metres above the ground, and ready to enjoy the descent.
Bouldering and Dry Tooling
Besides 'normal' climbing, Klimhal amsterdam offers extra challenges to experienced climbers, for examplee, in the boulder hall. Here bouldering is practiced - climbing short distances vertically (to a height of max. three metres) followed by a horizontal climb. This sport is unroped, with crash mats to break any falls, making it extra exciting! Dry Tooling is ice-climbing using ice axes, but withour ice! Climbers set off armed only with a safety helmet and an ice axe. The axe is hooked into existing holds, and the climb begins!
Aerial runways and the cave
Had enough of climbing? Klimhal Amsterdam has much more to do! There are aerial runways six metres above the ground. The cave is truly exciting, with a maze of narrow passageways where you have to find your way in the dark.
Children's parties
Having a birthday soon? Klimhal Amsterdam is a great place to celebrate your party. The climbing wall, the cave, the aerial runways and the abseil platform are all waiting to be discovered. And you can round off your party with a delicious pancake!
This attraction Klimhal Amsterdam (Indoor climbing centre) in Amsterdam is suitable for corporate activities, childrens party (vanaf € 13,50 p.p.) and vrijgezellenfeest.