What better way to discover the beautiful countryside of Overijssel than during a great buggy tour or a puzzle tour in a covered wagon around the wilds of Ommen? With Laarbrug everone gets back to nature!
From a buggy tour to a picknick, and from canoeing to clog racing: Laarbrug will make sure you have an unforgettable day out with friends, family or colleagues. The area around Ommen is ideal for a great day out exploring the countryside. Instead of th usual cycle tour, why not try something different and enjoy a spectacular day in the countryside with Manege Laarbrug.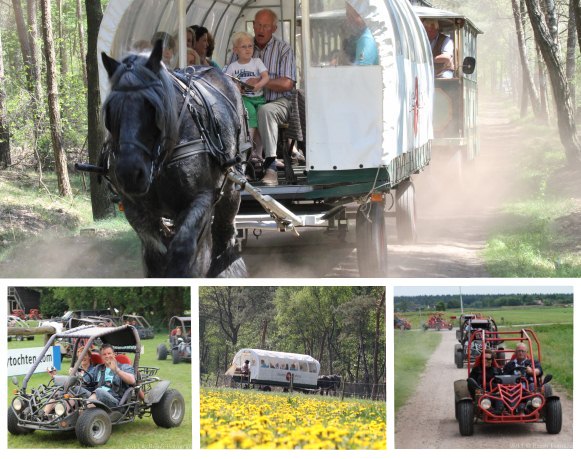 Buggy tour
A buggy is a sort of small car, but it has an open top and is a lot more adventurous! Driving a buggy lets you race around the Ommen countryside and explore all that Overijssel has to offer. Before the adventure starts, you receive instructions about the day, what the weather forecast is and what you should watch out for. After 45 minutes there is a pitstop with a great picknick. Along the way driver and passengers get to change places so that everyone can have a go.
Puzzel tour
Want to explore the Overijssel countryside, but is a buggy tour a bit too wild for you? Then take a trip in a covered wagon with a puzzle tour. Small covered wagons take small groups out, each equipped with various tasks and questions to answer. The tour takes you past beautiful farms and the woods around Vilsteren. And when you get back a great barbecue awaits.
This attraction Buggy tour in Overijssel in Ommen is suitable for corporate activities, ladies day and vrijgezellenfeest.