A day out with friends, family, or colleagues? Pick one of the 101 readymade package deals of BrabantseGroepsuitjes. Pick from countless sportive, creative, funny and culinary days-out in the beautiful nature of the Brabantse Diessen. Experiencing several fun days-out? Stay the night at the comfortable Hotel Auberge De Hilver or in one of the cottages of Landal Duc de Brabant.
Construct your own day
The possibilities of group days-out at BrabantseGroepsuitjes.nl are endless! Pick from more than a hundred readymade package deals, like:
Racing on a toilet or in a bathtub;
Hugging cows and making your own cheese;
Driving around in a buggy or Land Rover;
A cozy tilt cart picnic;
Paintballing and abseiling;
And much more!
Tip: Make your own package. There's something for every budget: check the budget-smashers.
Visit Africa in the region
A day in Africa? That's a possibility at Brabants Day-out! After a welcome with coffee and tea the group will drum itself to the dark heart of Africa with a class of djembe. Feel the rhythm while you work together. After lunch there's time to visit safari park Beekse Bergen. Explore the unique wild park on foot, by boat or bus and finish the day with a true African 'braai': a barbeque-buffet.
Explore Brabant tandem bicycle
Or make it a typical Dutch day out with an afternoon of cycling on a tandem bicycle through the beautiful area and visit a brewery. Relax for a bit at the 'best cafe of the Netherlands' for a drink. Play a game of miniature golf and enjoy hours of delicious food and drinks.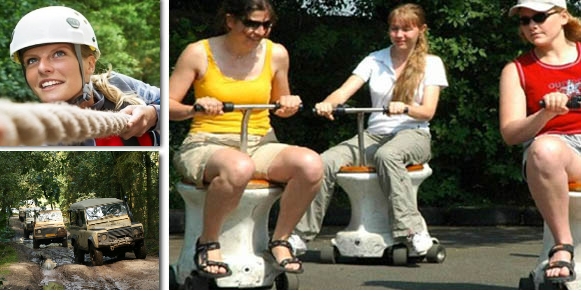 This attraction Brabants Group Days-out: fun group activities! in Diessen is suitable for corporate activities, ladies day, childrens party (vanaf € 9,50 p.p.), themafeest, workshop and vrijgezellenfeest.