Pancakes, everyone likes them! During the roundtrip of 75 minutes you can eat as much as you want. The chefs bake the most delicious bacon, apple, or plain pancakes. You can add all different kinds of food to the pancakes, like cheese, salami, pineapple, but also candy or cinnamon sugar. While everyone is eating the ship drives around the IJ, along the Central Station and the EYE filmmuseum. An amazing view on the modern part of the city of Amsterdam. Take your whole family on a trip or bring your lover for a romantic Pancake Cruise.

Tip: book tickets online with a 10% discount and get on the Pancake boat Amsterdam soon!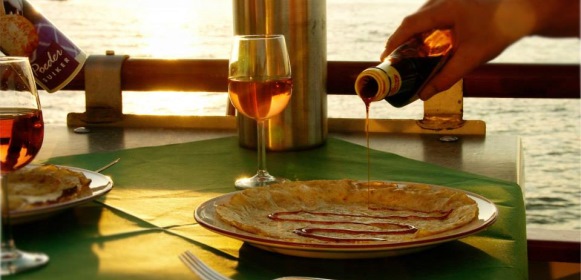 A cruise on the Pancake boat is a party for everyone. A relaxed day out for the family, while the kids enjoy the ball pit. But it's also for lovers who want to have a night out. The atmosphere on board of the ship is fun and the crew likes a good joke. While the guests enjoy the pancakes, the boat sails along every impressive building along the IJ. See how Amsterdam changes, old buildings disappear, new ones arise. In Summer a cruise ship sails by and the sea ships on the dock are very impressive.

Check all possibilities and join us at the pancake buffet! The Pancake boat is easily accessible with the free ferryboat from Amsterdam Central Station.

Children on the Pancake boat
Pancakes make children happy, but on the Pancake boat a surprise awaits. In the ship's hold there is a huge ball pit. This ball pit has a special lock, but how to open it? You'll hear that once you're there! Once the ball pit is open, parents won't see their children for a while.
Practical information
The boarding area of the Pancake boat Amsterdam is Ms. van Riemsdijkweg in Amsterdam North (navigation: Ms. van Riemsdijkweg 33). It is accessible by fairyboat and there is (paid) place to park.
more information about the accessibility
on the website.
This attraction Unlimited pancakes on a boat on the IJ in Amsterdam is suitable for childrens party.