Let the weather forecast be, a day at the beach is always a possibility at Happy Fun Beach. This gorgeous indoor beach has, besides sand, also beach volleyball courts, climbing walls, bouncing castles and a fun bar. Outside there's a big lake where you can swim and enjoy the beach. The ideal location for a fun day-out with the whole family, a sunny family day-out or a company trip. You can also just have a cup of coffee while the kids knock themselves out at the beach or on the bouncing castles.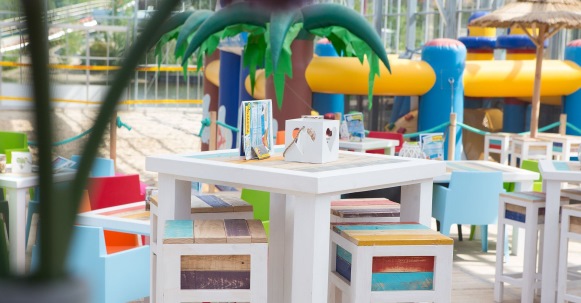 Activities for groups and families
Whether you want to relax with a bite and a drink or want an active day, Happy Fun Beach suits you. Bring colleagues or family for a cool game program like Beach games, Expedition Robinson or Fort Boyard and enjoy a delicious buffet or barbecue.
What possibilities are there?
Beach volleyball
Climbing the palm tree
Bowling
Swimming
And many more activities
Eating tapas and barbeque
A day at the beach only ends when you've eaten the most delicious bites of the Tapas restaurant Overijssel. Or barbecue with the whole group! In combination with other activities they'd like to offer package deals especially for you.
This attraction Happy Fun Beach: every day a sunny day at the beach! in Rheezerveen is suitable for corporate activities, ladies day, childrens party (vanaf € 12,50 p.p.), themafeest and vrijgezellenfeest.