Make your way through the jungle and go on an adventure at GlowGolf Enschede! With 3D glasses on your journey becomes a whole lot more realistic. Are you able to hit a hole in one at one of the 18 courses? Face the underwater world and discover the island where the treasure is hidden.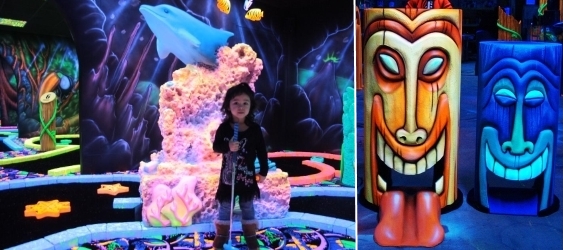 A journey in the dark
Feel like an explorer at GlowGolf Enschede. Are you able to find the treasure? It will be an adventure, you'll have to cross the jungle and pass the locals. Make the trip even more exciting with 3D glasses!
Have a blast in the Fun Rooms
Got something to celebrate? GlowGolf Enschede has many fun deals for groups and children's parties from six persons, in which you'll battle each other in the Fun Rooms. Challenge your friends for a game on the interactive screen on the wall, pick the songs on the jukebox and enjoy a table filled with food. There are all kinds of arrangements.
Have a look:
This attraction A treasure hunt at GlowGolf Enschede in Enschede is suitable for corporate activities, childrens party (vanaf € 9,75 p.p.) and themafeest.