HistoMobil is an outdoor centre on the outskirts of the village of Giethoorn, in an easily accessible location at the centre of the Netherlands. It is a great starting point to explore the Weerribben-Wieden National Park.

The canal village of Giethoorn is the place to be for boat tours, canoeing, water survival, family days, camping and team activities. HistoMobil offers a range of programmes and activities, including team-building.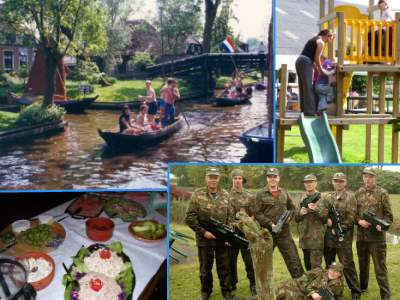 alt="HistoMobil">


Packages
HistoMobil has six halls offering plenty of possibilities for a fun day out. Activities include workshops, buggy tour, sailing, CSI game, shoot your own film, farm golf, road bowling and paintball. You name it, we can do it! Minimum group size is 10 people. Affordable activities are available from EUR 15 per person.
Dragon boat
The Dragon boat provides a spectaclar excursion, starting with a tour in a 22-seater canoe through the beautiful village of Giethoorn with a puzzle to solve, followed by a delicious Chinese buffet meal.
This attraction Family Farm HistoMobil in Giethoorn is suitable for corporate activities, ladies day, childrens party (vanaf € 13,50 p.p.) and vrijgezellenfeest.