The engine whistles and the driver throws coals onto the fire! The wheels sing and the steam hisses during this nostalgic trip. Take an exciting journey back in time with 'Bello' or one of the other steam engines between Hoorn and Medemblik, and round off your day out with a trip in a cabin cruiser over the IJsselmeer.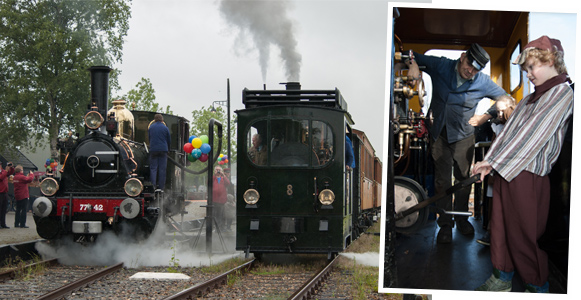 The Museum Steam Tram Hoorn - Medemblik takes you for a trip back in time across the West-Fries countryside. Chat comfortably with your fellow passengers in the wooden carriages, maybe reminiscing about the dangerous passage over the (former) Zuiderzee... A trip with the Museumstoeam tram is also fun with colleagues or family.

A trip on the Museum Steam Tram can be easily combined with a cycle tour through the countryside of West Friesland. In Medemblik a visit to Radboud Castle Kasteel Radboud is highly recommended.

From 22 May 2006 the locomotive HTM 8 Ooievaar dating from 1904 is back in service on the line, restored to its former glory.
This attraction Museum Steam Tram Hoorn - Medemblik in Hoorn is suitable for corporate activities.