Horse lovers, pay attention: Huifkarcentrum Wouter Hazeleger offers trips in covered wagons in all shapes and sizes. Hop in the covered wagon and enjoy peace and quiet in the beautiful nature that surrounds Otterlo. The coachman will show you the most gorgeous places of the unique nature area. Relax completely, also with picnic or barbecue if you like!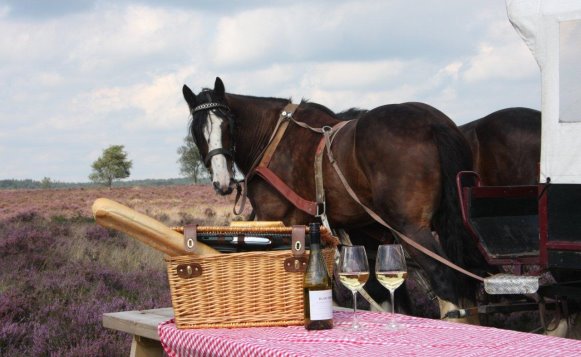 A trip in covered wagon with picnic or barbecue
Enjoy the Veluwe peacefully, while being pulled by two horses. You could easily spend a whole day doing that! That's why there are several package deals available, with something to eat. Pick the picnic package deal and settle after a trip in the covered wagon on an open lawn with a hamper. After an hour of eating an elaborate meal your trip through the natural area Planken Wambuis continues. Another great idea after a trip: barbecue together!
Yet another possibility is drive the coach yourself and pick your own route.
For weddings Huifkarcentrum Wouter Hazeleger has special wedding coaches. Drive around like a royal couple, in a white coach with Shire Horses. There are coaches for the wedding guests as well, so they can follow the bridal couple.
Ask a question to Have a beautiful trip in a covered wagon in the Veluwe;
This attraction Have a beautiful trip in a covered wagon in the Veluwe in Otterlo is suitable for corporate activities en childrens party (vanaf € 12,50 p.p.).