Butterflies, butterflies, and yet more butterflies. The Butterfly Valley of Orchideeënhoeve is packed full of them. The gardens are home to thousands of butterflies which fly around you as you walk. There are over three thousand species of butterflies and orchids to admire, and at 1500 square metres, this is the largest butterfly garden in the Netherlands. This colourful attraction is great fun for visitors of all ages.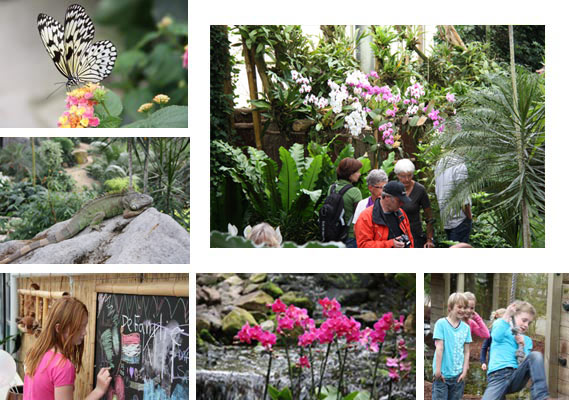 Tropical
And there is so much more to see, as the Butterfly Garden also has tropical birds, reptiles and ponds with koi carp. The tropical garden is home to thousands of wild orchids, some of which can only be seen in the gardens of the Orchideeën Hoeve. A footpath leads you through the five different gardens. The largest of these is the Malaysian Garden, it covers 2000 square metres and features traditional houses on stilts linked by an 18-metre bridge. The newest feature is a lounge corner with comfortable hammocks among the tropical fruit trees.
Children
For children there is an exciting treasure hunt that takes them on a series of adventurous wild paths. They can also let off steam on the bouncy castle and feed the fish. New this year is the Mangrove forest - a water-rich indoor play area. Refreshments are available in the greenhouse restaurant
This attraction Butterfly Valley - The Orchideeën Hoeve in Luttelgeest is suitable for corporate activities, ladies day, childrens party (vanaf € 13,50 p.p.), workshop and vrijgezellenfeest.