Play laser tag at Lasergame Rotterdam and do battle in a wonderful and mysterious environment. The realistic settings make you feel your in the hold of a ship or a real submarine. Come along and challenge your friends, family or colleagues to a spectacular laser battle and experience the greatest laser sensation ever! Enormous fun for young and old.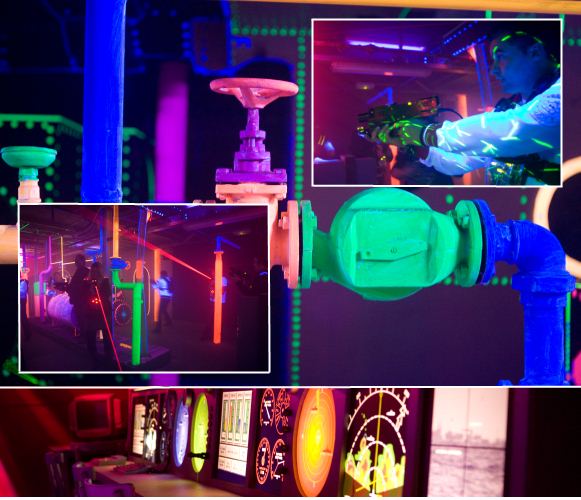 Location
Climb down into the hold of the ship and feel like you're in a real submarine. The players get ready to start the game in the engine room, where the sounds of water and sonar reinforce the feeling of being really under water. While you are being shot at through the portholes you can take shelter behind the engines and oil drums. The 300 m2 arena gives plenty of space to get into the game.
Lasergame Rotterdam is located below decks in the Spiesenboot in the Parkhaven, opposite the Euromast and next to the Pannenkoekenboot.
Packages
Lasergame Rotterdam can be combined with other fun activities where you can get to know your friends, family or colleagues in a whole new way. And after you've finished doing battle with your boss or your mother-in-law, you can make peace over drinks or a dinner together on the Pannenkoekenboot, Berenboot or Spiesenboot. And if you still have a score to settle, you can fight it out on the midget golf course, climbing the Euromast or racing across the River Meuse in a RIB boat.
In short, whether you have a birthday to celebrate, or an anniversary, corporate event, children's party or stag party, this is the place to be!
This attraction Laser Tag in Rotterdam in Rotterdam is suitable for corporate activities, childrens party (vanaf € 11,75 p.p.) and vrijgezellenfeest.