Enjoy a luxurious stay at the Veluwe. At leisure park De Boshoek you can stay at a luxurious safari tent, a group farm, a chalet, a Plop family tent or even a hotel room. Camping with your own caravan or tent is also a possibility. There are also plenty of extras at De Boshoek, like a sauna, a pony club, a children's farm and an indoor swimming pool.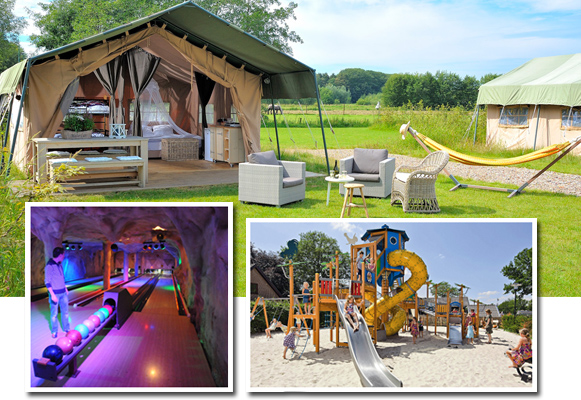 Enjoy yourself at the Veluwe
You don't need to leave this spacious leisure park to fill your day with fun activities. There are many facilities for both young and old. Go on a spree at the tennis court, the football pitch or visit the children's farm.
Restaurant Western Plaza
Have a bite at the restaurant Western Plaza, situated in the park. Hospitality is very important here. Visit for a lunch, dinner or drink. In the grand cafe there's place for small groups, but there are also halls available for bigger groups. Ideal for a perfectly taken care of company trip, combined with a visit to a bowling alley. There's a playground for the children as well.
Driving a buggy at the Veluwe
Would you rather do something slightly more active? Hit the road in a buggy. With a hamper you'll drive past special spots at the Veluwe. You can drive a buggy with a driving licence for category B vehicles and common sense. There's place for two on a buggy.
Ask a question to Spend the night in a luxurious safari tent or house at the Veluwe;
This attraction Spend the night in a luxurious safari tent or house at the Veluwe in Voorthuizen is suitable for corporate activities, childrens party, weekend break and vrijgezellenfeest.