Everyone should do this once in their life: tour around through the beautiful landscape of Twente and the Achterhoek in a cute little 2CV of Duckville. Ride on small lanes, drive through the woods and fields in a nostalgic "umbrella on wheels". Is the sun shining? Roll up the roof for the real 2CV feeling.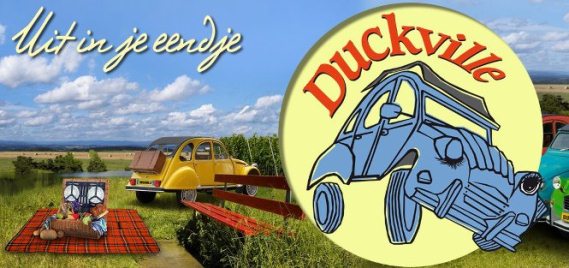 The village's garage in Diepenheim is the starting point of many beautiful trips in a 2CV. Go on a journey through the changing landscape of the Achterhoek or Twente. Duckville offers many amazing routes. In the back of the car there's plenty of space for a big hamper. You can fill it up yourself, or have Duckville take care of it. The same goes for a lunch or a fun activity afterwards. What about spending the night in a Pipowagen (a colourful caravan) or a lesson in baking cakes?

Tour around with the whole family
Four people fit in a 2CV. Therefore, the family arrangement is a lot of fun. Stop on your way for a game of Boerengolf (Farmer's golf) and spend the night at a camping in a hut.
Enjoy with the wind in your hair
Duckville also rents cabriolets, like the Dodge 600, a Chevrolet Corvair Cabriolet and a Visa Cabriolet.
This attraction Tour around in a 2CV of Duckville in Diepenheim is suitable for corporate activities, ladies day, weekend break and vrijgezellenfeest.