Visit the exciting fortress island of GeoFort! Inside and outside everything is about maps and navigation. Experiment with old and modern geo-techniques. Get into the dark underground pathway, where you'll get disoriented, and go back in time millions of years by turning the 4D globe. With this, you'll zoom in on the smallest part of your body or zoom out until the furthest spot in the universe! You can also investigate, climb, and play with water in the Bat Trail garden of Staatsbosbeheer. After all these interesting activities you can relax in the 3D Cafe for homemade cakes!


GeoFort is an enormous fortress island, with a fortress that's reconstructed into an exciting attraction with numerous activities, swinging rope bridges and a Bat Trail garden. With your smartphone you can do a tour or play an exciting game. Get to know old and new geo-techniques in the GeoExperience, find the cleverest way through the 'intelligent' labyrinth, follow the fragrance track, and do unexpected assignments. Getting lost was never this fun and educational!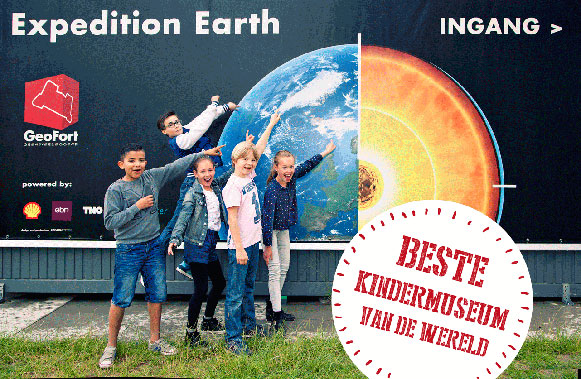 GeoExperience
Challenge is another word for GeoExperience. Both inside and outside many things can be discovered. Get for example in an airplane full of espionage computers or meet the modern, digital distorting mirror. Explore with the Geocache and follow the trail of clues through the national park.
Think like a bat
An animal that is best at navigation is the bat. Identify with this flying mammal and follow the route through the Bat Trail garden. Find out where they sleep, how they navigate and how they hunt. This complex garden is also on the fortress island, in the middle of sloping fields, high trees, and idyllic panoramas. After quite some searching and navigating it's time to enjoy the peaceful 3D Cafe. Exciting quests, the labyrinth and the numerous GeoActivities at GeoFort in Herwijnen are also perfect for company trips, family days, children parties and a day out for primary schools. This activity is suitable for children and teenagers.
This attraction GeoFort: exciting quests and labyrinths in Herwijnen is suitable for corporate activities en childrens party (vanaf € 14,50 p.p.).